It's important to recognize that personal preferences and cultural norms vary widely, and what is considered important or crucial in dressing up can be subjective. While it's true that some people, regardless of gender, enjoy dressing up and may use makeup, such as lipstick, to enhance their appearance, it's not accurate to generalize that this applies specifically and exclusively to women.
People have diverse reasons for dressing up, and the items they choose to enhance their appearance can vary. Makeup, including lipstick, is just one element of personal style that some individuals choose to incorporate into their overall look. However, it's essential to remember that only some feel the same way or place the same importance on these aspects of appearance.
While lipstick can indeed play a significant role in makeup and personal style, it's important to remember that makeup is a form of self-expression and creativity, and different individuals have varying preferences and opinions about its impact on their overall look.
Lipstick can be a focal point of a makeup look, and choosing the right color can enhance and complement one's features and contribute to an overall desired aesthetic. A well-chosen lipstick shade can add color, sophistication, or drama to a makeup look, potentially tying together the appearance.
Let's Know The Varieties Of Lipsticks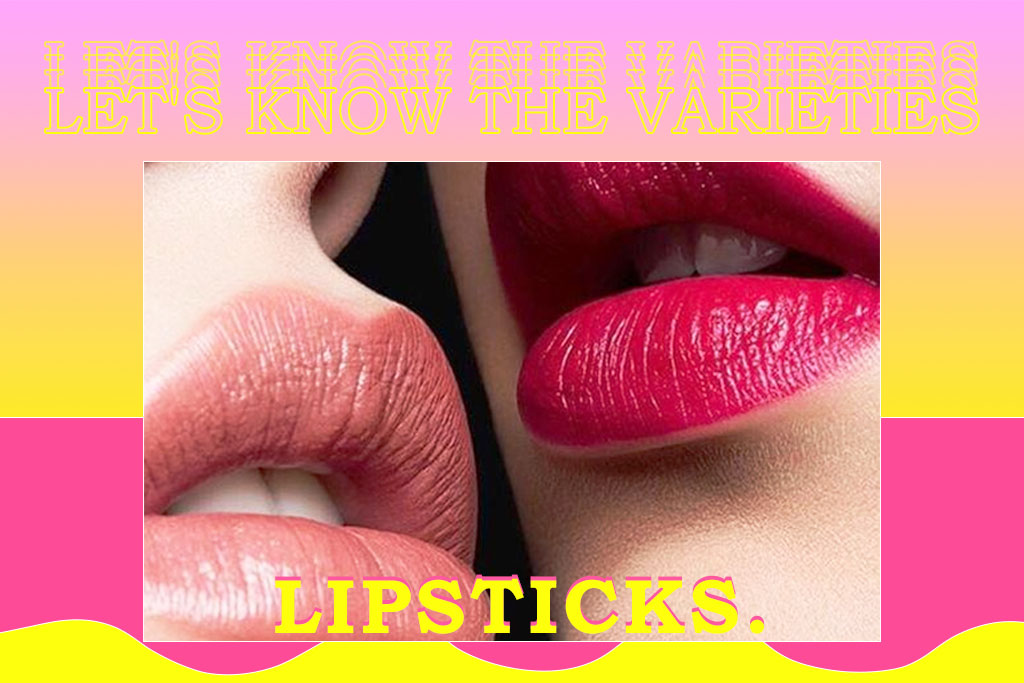 The lipstick comes in various varieties, offering various finishes, formulations, colors, and effects. Here are some of the most common types of lipstick and their characteristics:
Matte Lipstick: Provides a flat, non-shiny finish with intense color. Often long-lasting and can be drying, so moisturized lips are recommended.
Cream Lipstick: Offers a creamy texture with good color payoff and a slight sheen. Provides hydration and comfort for the lips.
Satin Lipstick: Combines the qualities of matte and cream lipsticks, offering a smooth, slightly glossy finish with vibrant color.
Gloss Lipstick: Provides a high-shine, wet look to the lips. Glosses can vary in opacity from sheer to intense and are often moisturizing.
Sheer Lipstick: Offers a translucent wash of color that enhances the natural lip tone. Provides a lightweight and natural look.
Lip Stain: Leaves a long-lasting tint on the lips. Typically has a watery consistency that provides a subtle, "just-bitten" effect.
Liquid Lipstick: Comes in liquid form, dries down to a matte or semi-matte finish, and provides intense color payoff and long wear.
Metallic Lipstick: Features a shimmery, metallic finish that adds dimension and shine to the lips. Often comes in bold and unique colors.
Lip Crayon: Presented in pencil or crayon form for easy application. Comes in various finishes, from sheer to highly pigmented.
Lip Liner: Used to outline and define the lips, prevent feathering, and enhance lipstick longevity.
7 Premium Lipstick You Can't Miss For Office Wear
Selecting the perfect lipsticks for office wear involves considering neutral, subtle, and professional shades that enhance natural beauty without being too bold or distracting. Here are ten premium lipstick options that are suitable for office settings:
Charlotte Tilbury Matte Revolution Lipstick in "Pillow Talk": A universally flattering, soft pink-mauve shade that provides a sophisticated matte finish.
MAC Cosmetics Lipstick in "Twig": A muted rosy-brown shade with a satin finish, offering a polished look.
NARS Audacious Lipstick in "Anna": A mauve-rose shade with a creamy, long-lasting formula perfect for a subtle yet elegant appearance.
Bobbi Brown Luxe Lip Color in "Neutral Rose": A creamy, semi-matte formula in a soft rose shade, ideal for a refined and natural look.
Yves Saint Laurent Rouge Pur Couture Lipstick in "Beige Tribute": A luxurious beige shade with a satin finish that adds a touch of sophistication.
Clinique Almost Lipstick in "Black Honey": A sheer, universally flattering berry shade that enhances your lips with a hint of color.
Estée Lauder Pure Color Envy Sculpting Lipstick in "Desirable": A neutral nude shade with a satin finish for a polished and professional appearance.
Why Should You Choose A Different Lipstick For Casual And Office Wear?
Choosing different lipsticks for casual and office wear is based on the context, environment, and desired impression you want to create. Here are some reasons why you might opt for different lipsticks in these settings:
1. Professionalism and Formality:
In an office setting, professionalism is often emphasized. Subtle and neutral lip colors are preferred as they convey a polished and put-together appearance. This helps maintain a sense of formality and respect for the workplace environment.
2. Distraction and Focus:
Bold or vibrant lip colors can sometimes be distracting, especially in a professional setting where the focus should be on work and communication. By choosing understated lip colors, you can ensure that your words and actions are the center of attention.
3. Conveying Confidence:
The right lipstick choice can help boost your confidence. A confident and composed demeanor is essential in a business or office setting. Neutral shades can contribute to a confident and empowered presence.
4. Daytime vs. Evening Looks:
Casual wear often corresponds to daytime activities, while office wear is typically daytime. Neutral lip colors align well with daytime aesthetics, enhancing your natural features without being overpowering.
5. Comfort and Longevity:
Lipsticks for office wear are often comfortable for extended wear, providing hydration and a balanced finish. This is particularly important for long work hours. Casual wear, on the other hand, might allow for more experimentation with textures and finishes.
6. Company Culture:
Different workplaces have varying dress codes and company cultures. Some organizations might have more lenient policies on makeup, while others prefer a more conservative appearance.
7. Flexibility and Adaptability:
Casual wear allows for more freedom in expressing your style, and you might choose lip colors matching your mood or the occasion. Office wear demands a more consistent and standardized appearance to maintain a professional image.
8. Respect for Colleagues:
Opting for more subdued lip colors in the office demonstrates consideration for your colleagues' preferences and comfort. Bold or scented lip products might need to be better received by everyone.
9. First Impressions:
In a professional environment, first impressions matter. Neutral lip colors help create a positive and approachable initial impression.
It's important to note that these are general considerations, and individual preferences and workplace cultures can vary. The choice of lipstick for casual and office wear ultimately depends on your style, the specific environment, and the image you want to project in each setting.
Bottom Line
Ultimately, choosing different lipsticks for various settings underscores the adaptability and versatility of makeup as a means of communication. By consciously selecting lip colors that suit the occasion, individuals can effectively navigate social norms, convey desired impressions, and enhance their overall appearance, whether for a day at the office or a casual outing with friends. The diversity of lipstick choices allows for a dynamic and multifaceted approach to self-presentation, enabling individuals to confidently express themselves in various situations.