Embarking on a journey is like unlocking a treasure chest of adventures, with each new destination promising a trove of memories waiting to be unearthed. The mere thought of travel ignites a spark of excitement that dances through our veins, inspiring dreams of uncharted territories and far-flung horizons. It's a symphony of anticipation whose notes crescendo to a harmonious melody when the suitcase is brought out – the vessel that carries our aspirations and wanderlust to distant lands. But as we stand before this emblem of possibilities, a conundrum arises: What to pack and leave behind? It's a dance of choices, a delicate balance between necessity and extravagance.
So, let us embark on a voyage of preparation, where we navigate the labyrinth of packing, making deliberate decisions about what to tuck into our travel cocoon and what to release back into the world. With a dash of practicality and a sprinkle of magic, let's uncover the art of packing – a canvas where each item holds a brushstroke of adventure and every choice is a stroke of serendipity.
7 Essential Tips While Packing For An Enduring Adventure
Packing for an enduring adventure requires careful consideration to ensure you have everything you need while keeping your luggage manageable and efficient. Here are seven essential tips to guide you through the packing process: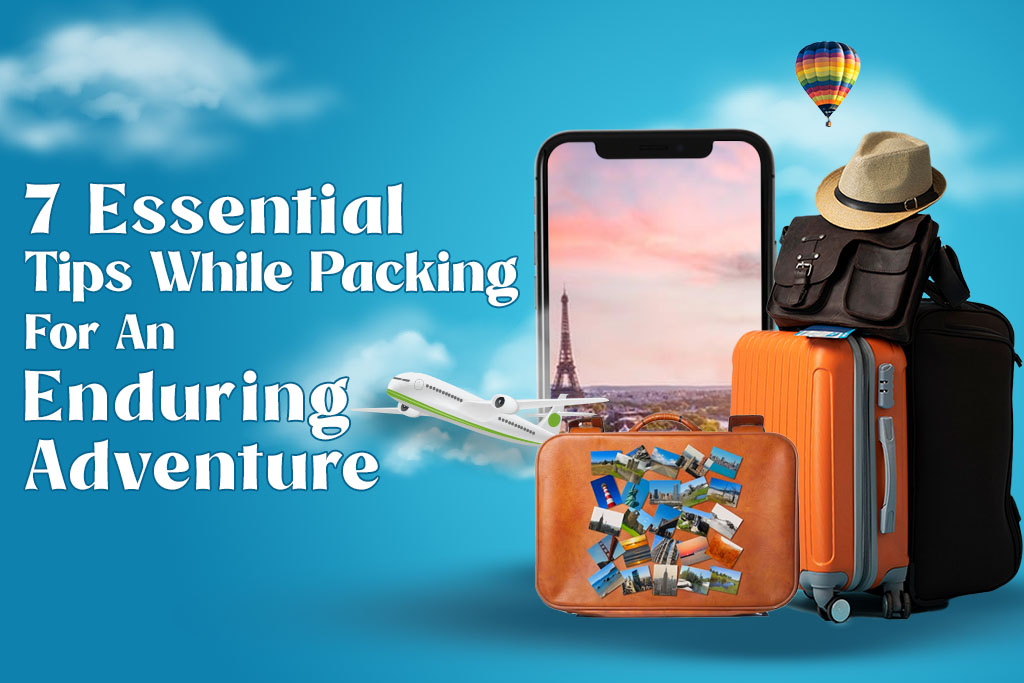 1. Research and Plan: Before packing, thoroughly research your destination and the activities you'll undertake during your adventure. Check the weather, terrain, and cultural norms to pack appropriately.
2. Pack Light: Choose versatile and multi-functional clothing that can be mixed and matched. Opt for lightweight and quick-drying materials to reduce the weight of your luggage.
3. Layering is Key: Pack layers that can be added or removed depending on the weather. This way, you can adapt to temperature changes and stay comfortable throughout your journey.
4. Essentials First: Prioritize packing essential items such as travel documents, medications, and a basic first aid kit. Place these items in a secure and easily accessible part of your luggage.
5. Choose Quality Gear: Invest in high-quality travel gear that will endure the rigors of your adventure. This includes a sturdy backpack, durable hiking shoes, and reliable camping equipment if needed.
6. Pack for Safety: Consider safety items like a flashlight, a whistle, a basic survival kit, and a portable water purifier. These can be crucial in emergencies or when exploring remote areas.
7. Organize and Roll: Use packing cubes or compression bags to organize your clothes and maximize space. Rolling your clothes can also save space and reduce wrinkles.
Bonus Tip: Leave space in your luggage for souvenirs or items you might pick up during your adventure. Having a little extra room allows you to bring back cherished memories.
Remember, packing for an enduring adventure is about balancing preparedness and adaptability. Pack smart, and be ready for the challenges and rewards that await you on your journey into the great unknown.
20 Travel Essentials
Embarking on a journey, whether a spontaneous weekend getaway or a meticulously planned adventure, requires a collection of essentials that seamlessly weave comfort, practicality, and style.
1. Travel Wallet or Organizer: Keep all your important documents, such as passport, ID, boarding passes, and travel insurance, organized and easily accessible.
2. Portable Charger and Charging Cables: Ensure your devices stay powered up, especially during long layovers or while exploring new places.
3. Universal Travel Adapter: Stay connected no matter where you go by having a versatile adapter that can fit various outlet types.
4. Reusable Water Bottle: Stay hydrated on the go and reduce plastic waste by carrying a collapsible or refillable water bottle.
5. Compact Umbrella: Be prepared for unexpected weather changes with a small, lightweight umbrella that fits easily in your bag.
6. Earplugs and Eye Mask: Block out noise and light for a more restful sleep, especially during flights or in unfamiliar accommodations.
7. Travel-Sized Toiletries: Pack mini versions of your favorite toiletries to save space and comply with carry-on restrictions.
8. Basic First Aid Kit: Include essentials like adhesive bandages, pain relievers, antiseptic wipes, and any necessary prescription medications.
9. Snacks: Carry non-perishable snacks to curb hunger between meals or during transit.
10. TSA-Approved Locks: Keep your belongings secure with locks approved for Transportation Security Administration (TSA) checks.
11. Travel Pillow: Stay comfortable during long flights or bus rides with a compact and supportive travel pillow.
12. Multi-Purpose Clothing: Pack versatile items that can be layered or dressed up/down to accommodate different activities and weather conditions.
13. Ziploc Bags: These are handy for organizing small items, storing snacks, and keeping liquids from spilling in your bag.
14. Local Currency: Have some local currency on hand for small purchases or transportation upon arrival.
15. Compact Day Bag: Bring a small backpack or crossbody bag for day trips and to carry your essentials while exploring.
16. Sunglasses and Sunscreen: Protect yourself from the sun's rays with UV-blocking sunglasses and sunscreen.
17. Travel-Sized Laundry Detergent: For longer trips, having a small amount of detergent can help you do laundry on the go.
18. Travel Journal and Pen: Capture your experiences, jot down memories, and document your journey in a travel journal.
19. Map or Offline Navigation App: Ensure you can navigate your destination without relying solely on data by having a map or offline navigation app.
20. Language Translator App: Download a language app to assist with communication in areas where you may not speak the local language.
These practical travel essentials are designed to streamline your travel experience, keep you comfortable, and help you make the most of your journey. Adjust the items based on your destination, the nature of your trip, and your personal preferences.
Conclusion
Finding the delicate equilibrium between necessity and excess is a voyage in the art of packing. As you embark on your journey, remember that each item nestled within your luggage carries a purpose, a potential, a story waiting to unfold. Packing is a mindful curation, a symphony of choices harmonizing practicality, comfort, and anticipation.
Ultimately, the journey is your canvas, and your packed essentials are the brushstrokes that color your adventure. With careful consideration and a discerning eye, you've assembled a collection that serves as a compass, guiding you through uncharted landscapes and unexpected moments.
As the weight of your luggage settles and the excitement of the unknown beckons, stand assured that you're equipped with all you need to embrace the adventure ahead. Whether traversing cobblestone streets, trekking through the wilderness, or exploring bustling cities, your well-packed belongings are not just possessions but companions, catalysts, and conduits to unforgettable experiences.
So, stride forward, shoulders unburdened, heart unencumbered, and spirit unwavering. Your journey awaits a blank canvas ready to be painted with strokes of wonder, discovery, and joy. And as you traverse time zones and cross borders, remember that the art of packing is more than just folding clothes; it's a symphony of preparedness and a prelude to the extraordinary chapters yet to be written.