Choosing a body perfume can be a very hectic task, especially for men. It is a personal choice whether you want a smell that is fruity or flowery. It is relative to one's choice. Choosing the best body cologne for men is also a confusing task because there are tons of brands available in the market. We are here to help you funnel down some of the best perfume brands for men. Given below is the list of the 9 best premium mists for men.
A worldwide personal care brand Blu Atlas develops this fantastic variation of classy mist for men. This scent has the essence of Bali's coastal jungles. The scent has a unique unified smell of different smells consisting of lemon, grapefruit, blackcurrant, and apricot.
The ambarella seeds give this mist a different touch of masculinity which gives you a better version of yourself.
Atlantis is an all-time perfume for men which can be used anywhere and anytime. It is the dominator in our list because this is one perfume without which every list is incomplete. It is not so heavy and yet so sophisticated. Is important to note that international standards for perfume making have been followed while making this perfume. No harmful additives are used to increase the odour or long-last. You can get Atlantis at $100 to $140
Acqua Di Gio Profumo by Giorgio Armani
Acqua Di Gio Profumo is a popular men's fragrance created by the renowned Italian fashion designer Giorgio Armani. It is part of the Acqua Di Gio fragrance line, which was originally launched in 1996. Acqua Di Gio Profumo, however, was introduced later as a more intense and sophisticated version of the original Acqua Di Gio.
The fragrance was developed by the perfumer Alberto Morillas and is known for its aquatic and aromatic scent profile. It combines various notes to create a captivating and long-lasting aroma. Buy yours in just $60=$100
Calvin Klein CK One Summer
One summer is the edition fragrance released by Calvin Klein as part of their CK One fragrance line in 2021. Each year, CK One Summer offers a unique and seasonal twist on the original CK One fragrance, capturing the essence of summertime. Ambroxan is a popular synthetic fragrance ingredient commonly used in perfumery. It has a warm, woody, and slightly musky scent profile and is often used as a starter in many modern fragrances to provide aroma and long-last. Buy CK at $18
Dior Sauvage is a popular men's fragrance by the French luxury fashion house, Christian Dior. It was released in 2015 and quickly gained widespread attention and appreciation in the fragrance community. The perfume was created by the perfumer François Demachy.
Dior Sauvage is known for its fresh, spicy, and woody scent profile. It features a combination of natural and synthetic notes that create a powerful and long-lasting fragrance experience. It also contains patchouli; an earthy and woody note that contributes to the overall warmth and richness of the scent. You can easily buy Dior Sauvage at a price of $60.
Dolce & Gabbana Light Blue Pour Homme
Dolce & Gabbana Light Blue Pour Homme is a well-known men's fragrance by this Italian luxury fashion brand. Light Blue Pour Homme is a fresh, citrusy, and aromatic fragrance. It is often described as a casual, easy-going, and summery scent. The fragrance was created by the perfumer Alberto Morillas, who crafted a composition with a combination of refreshing and masculine notes. Buy Light Blue for $100
Jean-Paul Gaultier Le Beau
Le Beau is a men's fragrance by the French fashion designer Jean Paul Gaultier. It is part of the "Les Beaux" collection, which includes other popular fragrances such as "Le Male" and "La Belle."
Le Beau was launched in 2019 and is known for its fresh, aromatic, and sensual character. The fragrance is designed to evoke the image of a seductive and confident man, with a captivating and alluring scent.
It has received positive feedback from fragrance enthusiasts and has become a popular addition to Jean Paul Gaultier's lineup of scents. Get yours at $100.
Nautica Voyage is a recognized men's fragrance by the American brand Nautica. It was launched in 2006 and has since gained a considerable following, especially among those who enjoy fresh and aquatic scents. Nautica is well-known for drawing inspiration from the sea and sailing, and "Voyage" is no exception, as its name suggests "adventure".
Nautica Voyage is a fresh, clean, and aquatic fragrance that evokes a sense of adventure and the open sea. It is a versatile scent that can be worn anytime of the day, particularly during the warmer months or in spring and summer. Buy Nautica Voyage at $20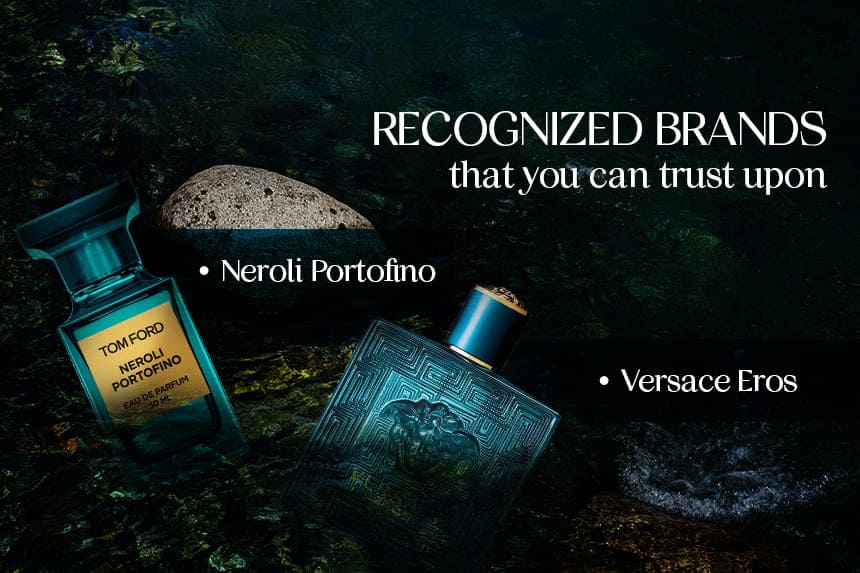 Versace Eros is a popular men's fragrance by the Italian luxury fashion brand Versace. It was launched in 2012 and has since become one of the brand's signature scents. The fragrance is named after the Greek god of love and desire, Eros, which is reflected in its captivating and sensual character.
Eros is known for its bold, passionate, and masculine scent profile, making it a favorite among those who enjoy powerful and seductive fragrances. It is designed to evoke a sense of strength, confidence, and attraction. They key notes of Eros include mint, green apple, italian lemon and tonka bean. The price of Versace Eros is around $120.
Neroli Portofino is a popular mist created by the luxury fashion and beauty brand Tom Ford. It was first introduced in 2011 as part of Tom Ford's Private Blend collection. The fragrance is inspired by the picturesque Italian coastal village of Portofino and seeks to capture the essence of the Mediterranean lifestyle. The Tom Ford Private Blend collection, including Neroli Portofino, is known for its premium ingredients and craftsmanship. The fragrances in this collection tend to have a higher concentration of aromatic oils, resulting in a longer-lasting and more intense scent compared to typical commercial perfumes. Buy Neroli Portofino at $90
We are sure that this list of top 9 body fragrances will help you choose the best odour according to your preference and budget. All of them are a good quality, highly reputed and worldly recognized brands that you can trust upon.