Yes the holiday season is here, What are your plans for your vacation? What are your thoughts for a resort trip? A resort trip offers you a wide option of all in one place. The premise of the resort will offer you everything from comfortable stay, gardens, restaurant, and a spacious place to roam around and enjoy the location. Now for such a beautiful place you need dresses or making every moment more special. Whether you are going for a short resort trip or a long trip to Maldives. Vacation dress will alway have a special place and remind you of special moments. Your vacation outfit should be stylish and comfortable. To gear up your vacation choose a versatile outfit.
Resort Dress Inspiration: Celebrity Style on Vacation
Get inspired for your vacation, your vacation should be joyful and memorable and it gets even more better and colourful with the premium selection of dresses. Your vacation will be incomplete without the to[ picks of the dresses. You will click a cig pic and enjoy and capture every moment, a beautiful piece of dress will make it even more memorable for life long.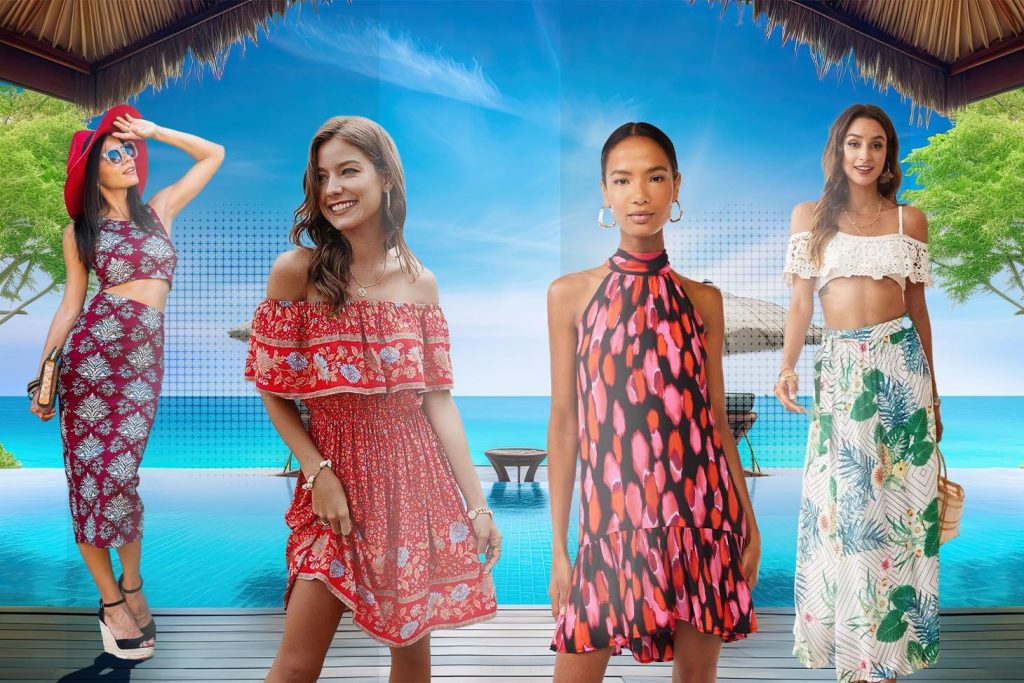 An off shoulder crop top is to be part of an outfit for a resort trip. You can create a cute attire of an off shoulder crop top with white pants or a skirt. This eye-catching attire makes you fall for it.
A maxi dress always gives a stunning look and a comfortable feel too. It would be perfect if you pack a maxi dress in your bag and tis would be a perfect dress for your holidays. A maxi dress is perfect for a holiday and capturing great moments.
A Jumpsuit is just a packing item in your bags for the holidays. A catchy arf print is the perfect piece for the vacation and especially for a resort dress. You can attire in on resort parties wittsunning prin ts and vibrant look.
Light weighted and princess dress, te ruffle dress are a trendy seasonal look for the vacation. It Is comfortable and light to wear and it is decorated with some beautiful prints. Pairing it with sunglasses and tote bags will complete your woe look and give a celebrity style.
A dress with unique abstracts and a multiple colour , gives the lays vibes just by looking at it. The dress has a loose pattern which is relaxing to wear and its vibrant colours and unique abstracts are the eye -catching part about this dress.
A long skirt with a tee or fitted top gives a stunning look and eleves your whole style. Pairing the outfit the short ankle length boots or the striped flats. This could create a perfect look for the holidays and makes you the show's topper there.
The dyd pants are prominent in this generation and have become a fashion symbol. A simple tee or top can give such a stunning look with a dyed pant and sneakers or flats will complete the whole look.
A midi dress with some popping colours are just best for the resort, this look will be perfect with boots or ballets. A vacation without a midi dress will not make much sense. You can flaunt your dress and have great memories.
A floral or printed kaftan dress is perfect for the vacation. Kaftan are comfortable and relaxing to wear. The extended sleeves knee length kaftan or full length touching the floor bot will be a great pick for the vacation but you definitely choose a printed kaftan over a solid colour only.
A linen t-shirt is definitely a cool pick, pairing it with pants of any opposite colour with bodycon skirts will give a stunning look. A linen t-shirt has a lightweight and ashinning look which makes it elegant to wear.
How To Choose The Right Dress For The Resort?
Are you excited about a resort trip? The right choice of dress for the resort can make your vacation even more memorable. You need to choose clothes depending on the current weather condition. You need to decide about these things too of what accessories and footwear to wear. For every dress you need to hack the thing before going for the vacation. You need to look for this first if you want to dress casual for the resort, elegant dress up, or what? To prevent confusion later, it is better to land up on the decision today.You need to be sure about what you are packing the bags and have a clear idea on what you will be wearing and when. Let's know what is casual dressing, what is elegant dressing, and what's for evening dress.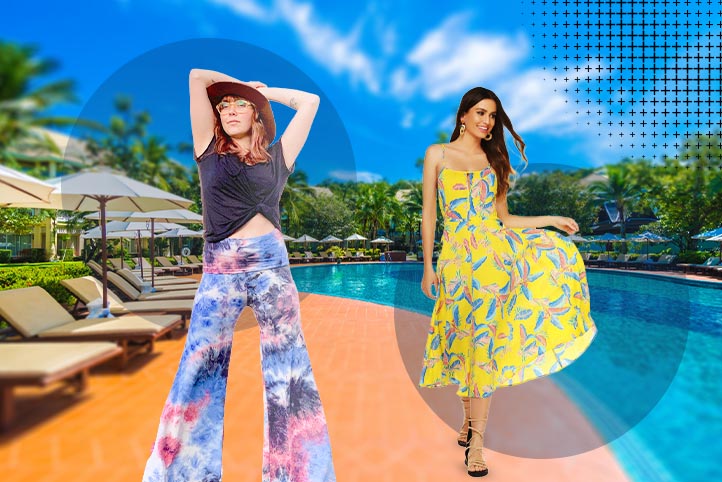 To start with the casual resort wear, you can wear jeans r dem=nim shorts with a polo t-shirt or plain top that complements your bottom wear. You can wear them around the pool area or in the breakfast area. For a modest look wrapping with the shawl is a good look. Next coming up with elegant outfits is more of giving a personalised touch and style in your outfit.With the dresses, footwear gives more elegance in the attire. For an elegant look, pair your dress with wedges or pointed heels or flats.
In The Nutshell
Planning a gateway? A resort vacation with your family and friends? Creating good memories and enjoying the trip. What about the clothes? What are you gonna wear? The last minute confusion about the dresses can be frustrating, decide in advance what your outfit is and here we have some of the best outfits that can be worn at a resort vacation. Preventing the last minute hussle, we have shared some of the top dresses that will create your memories ,or remembering with the ebay dresses ideas for you on your next resort trip. Outfits have great impact while creating new memories and capturing them in the camera. Your elegant outfit will make those memories. For every day you need elegant dresses that will make you stand out different from everyone else. Must read the blog and plan for your perfect resort wear.