Heels hold a unique and significant place in fashion and styling. As a timeless and iconic footwear choice, they can elevate any outfit and exude elegance, confidence, and sophistication. Whether it's a formal event, a business meeting, or a casual outing, heels add a touch of glamour and flair to the overall look.
Versatility and Elegance:
One of the critical reasons why heels are so unique and important in styling is their incredible versatility. With a wide range of styles, heel heights, and designs, there's a perfect pair of heels for every occasion. From classic stilettos to chunky block heels, kitten heels, and wedges, each style offers a distinct charm that complements different outfits and settings.
2. Enhanced Posture and Confidence:
Beyond their aesthetic appeal, heels also work wonders for posture and confidence. By elevating the height, heels help improve posture by encouraging a straighter spine alignment. This creates a more graceful appearance and boosts self-assurance, making the wearer feel more empowered and ready to take on the world.
3. Leg-Lengthening Effect:
Heels are renowned for elongating the legs, creating a flattering and elongated silhouette. The leg-lengthening effect is appealing, making any outfit appear more polished and refined. This is especially advantageous when wearing skirts, dresses, or cropped pants.
4. A Timeless Fashion Icon: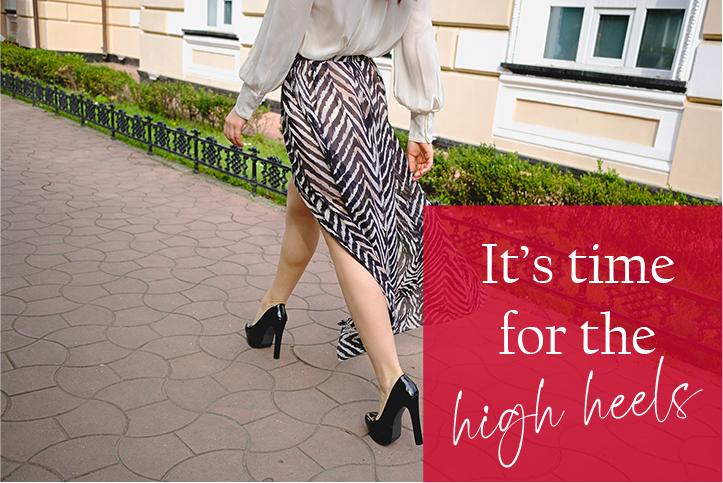 Throughout history, heels have remained a symbol of elegance and sophistication. From the glamorous Hollywood stars of the past to contemporary fashion icons, heels have graced red carpets, runways, and everyday life, making a lasting impression on the world of style and fashion.
5. Expression of Personal Style:
Heels offer endless opportunities for self-expression and creativity in styling. Whether it's a classic black pump for a professional look, a vibrant-colored heel for a playful statement, or an embellished heel for a special occasion, each choice reflects the wearer's personality and unique fashion taste.
6. Comfort and Practicality:
While some may associate heels with discomfort, modern designs often incorporate comfort features without compromising style. With advancements in materials and cushioning, many heels are designed to be comfortable for prolonged wear, allowing women to look and feel fabulous without sacrificing practicality.
Heels are undeniably a special and important styling element. They transcend trends, enhance posture, boost confidence, and add a touch of glamour to any ensemble. As a timeless fashion icon, heels hold a prominent place in the hearts and wardrobes of fashion enthusiasts worldwide. So, the next time you step into a pair of heels, embrace the transformative power they offer and step out with style and grace.
Let's read how heels make you more stylish and glamorous.
Types Of Heels You Can Carry Out With Style And Comfort
The hottest trend in stylish and comfortable heels is merging fashion-forward designs with comfort-enhancing features. Women are seeking heels that make a statement and allow them to move effortlessly throughout the day without compromising on comfort. Here are some of the top trends in stylish and comfortable heels:
1. Chunky Heels with Supportive Platforms: Chunky heels are making a major comeback, and they now come with supportive platforms that offer stability and comfort. These heels provide a bold, modern look while ensuring a more balanced and comfortable walking feel.
2. Block Heel Mules: Block heel mules combine the comfort of a block heel with the easy slip-on style of mules. These heels are chic and contemporary, making them perfect for casual and dressier occasions.
3. Cushioned Insoles and Arch Support: Heels with cushioned insoles and arch support are gaining popularity as they provide superior comfort for extended wear. Brands are incorporating innovative technologies to ensure that heels feel as comfortable as walking shoes.
4. Slingback Heels: Slingback heels are a stylish option offering ankle support. With a strap at the back, they stay in place while providing a comfortable fit. Slingback heels come in various heights and styles, allowing you to find the perfect pair for any occasion.
5. Wedge Sandals with Memory Foam: Wedge sandals are a summer favorite, and the latest trend incorporates memory foam in the footbed for added comfort. These heels offer a perfect blend of style and ease, making them ideal for all-day wear.
6. Block Heel Booties: Block heel booties are versatile for the colder months. They provide a fashionable lift while offering more stability and comfort than higher stiletto boots.
7. Transparent and Perspex Heels:Transparent heels, made from materials like perspex, are a contemporary trend that adds a touch of modernity to any outfit. These heels give the illusion of floating, making them visually appealing and comfortable.
8. Heeled Loafers: Combining the elegance of heels with the comfort of loafers, heeled loafers are becoming a go-to choice for both professional and casual settings. They offer a refined yet relaxed look and can be worn with trousers, skirts, or dresses.
As the fashion industry evolves, so do the options for stylish and comfortable heels. The hottest trend emphasizes that women no longer need to sacrifice comfort for style. With various designs featuring supportive features, cushioned soles, and innovative materials, today's heels offer the perfect balance of fashion and comfort, making them a must-have addition to any wardrobe.
Do and Don't With Heels Styling.
When styling heels, remember some essential do's and don'ts to ensure you achieve a polished and sophisticated look while staying comfortable. Here are some guidelines for styling heels effectively:
Do's:
1. Choose the Right Fit: Ensure your heels fit well and provide ample support. Avoid shoes that are too tight or loose, as they can lead to discomfort and potential foot issues.
2. Pair Heels with the Right Outfit: Heels can elevate any outfit, but pairing them appropriately is crucial. They work well with dresses, skirts, tailored pants, and dressy jeans. Be mindful of the occasion and dress code.
3. Practice Walking: If you're not used to wearing heels, practice walking in them before wearing them to a big event. This will help you feel more confident and prevent any awkward moments.
4. Opt for Comfort Features: Look for heels with cushioned insoles, arch support, and straps that provide stability. These features can significantly affect comfort, especially when wearing heels for an extended period.
5. Experiment with Heights: If you're uncomfortable with high heels, start with lower heights like a kitten or block heels. As you get accustomed to wearing heels, you can gradually increase your height.
Don'ts:
1. Ignore Your Comfort: No matter how stylish a pair of heels may be, prioritize your comfort. Wearing uncomfortable heels can lead to blisters, foot pain, and potential long-term problems.
2. Overdo It with Accessories: Heels already make a statement independently, so avoid overwhelming your outfit with excessive accessories. Keep it balanced, and let the heels take the spotlight.
3. Size Up Too Much: Avoid buying heels that are too big, assuming they will be more comfortable. An ill-fitting shoe can lead to discomfort and difficulty walking.
4. Walk on Uneven Surfaces: Be cautious when walking on uneven surfaces or cobblestones, as heels can get stuck or cause instability.
5. Neglect Heel Care: Take care of your heels by storing them properly and cleaning them regularly. Proper maintenance ensures they last longer and continue to look great.
By following these do's and don'ts, you can confidently style your heels, exude elegance, and feel comfortable throughout the day or evening. Confidence and comfort are key to pulling off any outfit with grace and style.