Do you also want to discover the latest idea that could make your house look expensive and luxurious but within a budget? Incorporate inspiring ideas and make your home look expensive. You don't need high price tags to make your house look expensive without non-expensive things.
The path to making the house look luxurious is not the hidden concept of buying expensive things only; for that, you must know the ways to make it look. At times expensive things could not even make it look that good; all that matters is how you present and assemble them. Making your home presentable enhances the house's value, and when selling it, it will pay you back for your efforts and how nicely you have maintained the house. 
Affordable Home Decor Hacks That Make Your Space Look Expensive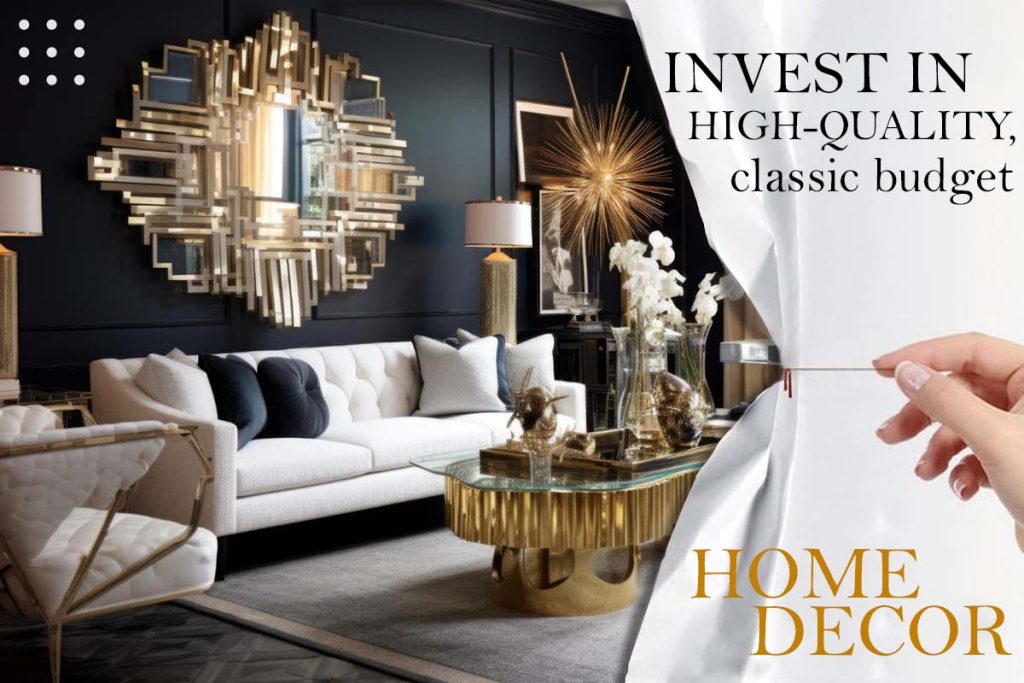 You also know the concept here as we have with our dressing. Let's know how. Talking about the home, as we already know that for a house to look expensive, there is no need to have expensive things, it is just a matter of how to make them look the same as with our dressing, that buying expensive clothes and only then you will look great is not the thing, it depends on how to carry he and how to present them. Making the home look luxurious will come from the material used and how to dress up the thing in each corner of the house. There are plenty of tricks and hacks that could do this.
Give doors a contrasting color.
Go different this time if you want to make the mouse look different and luxurious on a budget. Don't go with the basic white and the same colors as on the wall. Give an expensive touch to your house with contrasting colors. With the white balls, try some bold colors or black on the gates, and you will find this decision the best ever.
A large piece of art always gives the viewers the illusion that the painting will be of higher cost and they will find it experienced, but this doesn't cost that much. You will find one as you visit the store of canvas and look at the unique and attractive painting that could perfectly complete the interior of your home.
A colorful and quirky wall art gives an electrifying and fun view. The type of color and shape you choose to define a luxurious touch to the walls of the house. Be sure to choose the same colors; you may choose within different shades of the same colors to make them look identical and complementing; otherwise, going with diversity in colors could lead to a messy wall.
Get close to nature, and add flowers and plans. 
Decorating the house with flowers and plants can make it look instantly expensive, as it brings more freshness, richness, and colors and gives an interesting look. If you need help with the real flowers and want to keep them the same daily but still want that flowery look in your house, you can go with the faux flowers that give a realistic look.
Adding molding and giving more details on the ceiling and walls gives a luxurious look to the house. Adding more detailing to the walls and ceiling gives the house a royal and better look.
Your expensive look could only be complete with statement lighting and chandelier lighting. Chandelier light for a long time has been part of the expensive-looking house. It works as the cherry on top and is a piece of jewelry for the house's interior.
Replace any other flooring with wooden flooring to give your house a luxurious look. It is a timeless beauty and a highly desirable choice. If you have any other flooring or use carpets as flooring, instantly replace them with wooden flooring to give an expensive look.
Make the visibility of the wire zero in the house; the world is advanced with premium technology to make every room free from the wire. Even if your house is filled with luxurious items to decorate, but then you have cables and wire out, hampering the view will make everything go in vain.
Choose the vintage rug wisely. The right one can make or break it. Choose luxurious rug designs to make the house look luxurious. There are plenty of ideas for vintage rugs, and people prefer the thick ones over the thinner ones.
Being decorative in spaces 
Your wish to make your kitchen and bathroom look incredibly expensive at first glance and make the people flatter your kitchen. Add a design to the spaces, make it look interesting, and use the practical spaces with a design touch.
Make the closet built-in and see how premium it is. An in-built wardrobe space gives a more flattering look and makes the surrounding space more spacious. A sin-built wardrobe occupies less outside space, making the room more spacious.
In every expensive booking house, you won't be finding bright colors that could be pinching to the eyes, and the darker colors on walls and any place make the space look more filled; this is due to the illusion but still gives a feeling of lesser space. Using decent and light colors is preferred and makes the house look spacious and luxurious.
Bottom Line
Home decor is a lifestyle enhancement that makes your place a better place to live and makes you happiest in your comfort place. The place here to live should be pleasing and adds more personal touch to the house with your choice of decorative stuff. The home's lifespan and value can be enhanced with appropriate and luxurious decor. Do you also think that only expensive things and things with higher price tags could only make your home decor look premium and luxurious? That's not true; you must know how to present and dress up things to make them look expensive. When the home decor is done with decent choice, everything makes sense and complements each other. You can do plantations at the house, make the walls look interesting and have a vast canvas, and use the lighting only, especially in the living area, and you will see how people will appreciate your efforts and how they flatter you. During the house party, there will be a better vibe at your house, and people will enjoy visiting our house because of the extremely good home decor.