Who doesn't want pouty plumpy lips these days? Luscious, plump lips have been an endless symbol of beauty and sensuality throughout history. Every female wants attractive plumpy lips but it is very hard to choose which brand gives long-lasting plumpy lips. In the dream of fuller, pouty lips, the beauty industry offers lots of lip-plumping devices, glosses, and treatments, making it challenging to determine which option is the right fit for you and provides long-lasting effects. If you are looking for the best lip plum then in this article we provide you a list of good plumpers that work like a pro and give you fuller, more alluring lips without the need for invasive procedures.
MAC Squirt Plumping Lip Gloss
MAC is always the favorite brand as they are a very premium luxury brand. Mac recently launch a plump gloss that looks like a lipstick but it is a plum gloss that works like magic. This lip gloss provides a super soft balm that gives lips a juicy, glossy coverage with just a subtle hint of playful color. The formula contains lip-plumping actives such as ginger root extract and capsicum, but it's the menthol crystals that add a pleasant tingle. Contains shea butter, avocado oil, and coconut oil for nourishing lips. Best lip plum to plump your lips. It costs you 24$.
2. Too-Faced Lip Injection Extreme Lip Shaper
Too Faced is renowned for its lip-enhancing range, and its latest release is a lip liner that comes in six shades. These tones range from a light pink nude to dark chocolate, and they can be used for lining, shaping, or filling your lips. For a fuller look, you can slightly extend your natural lip line and then apply your favorite lipstick or gloss. You can also use it as a base to plump your lips all over. The thick tip and semi-matte velvety texture make it easy to sculpt your lips, even if you are new to using a lip liner. You will feel a warming sensation, and the long-lasting finish will significantly prolong the wear of your favorite lipstick.
3. Buxom Full-On Plumping Lip Cream
Buxom's Full-On Plumping Lip Cream gives you the double whammy effect of hydration and plumping action. You can say it is multi-working plumping lipgloss. It is a must-have lip cream. This formula infused with peptides helps to stimulate the production of collagen, which results in smoother and fuller lips with regular use. The sensation you feel when applying the formula is mild but effective, leaving you with a plump and confident pout.
4. ELF Lip Plumping Gloss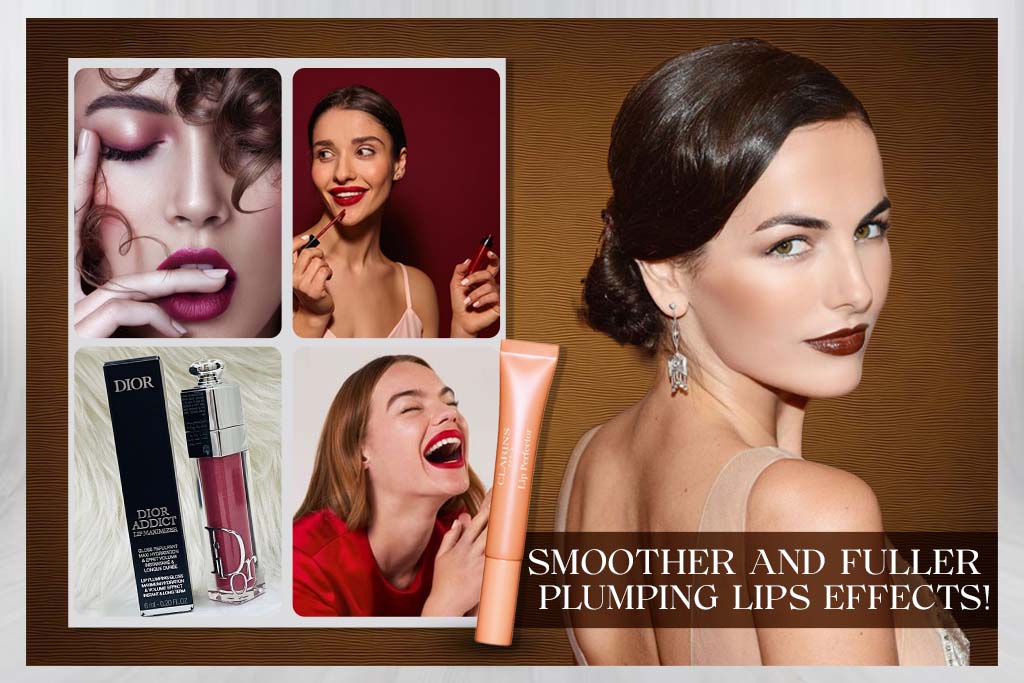 If we talk about affordable and effective makeup products then Elf makeup is always in the top 10 list. Recently ELF launched their lip plumper which is very effective and gives the shimmering champagne effect. They have launched their lipgloss in different shades that leave fuller lips in a quick time or you can say in just one swipe. When using this formula, you may notice a slight tingling sensation due to the menthol included in the formulation. However, this is completely normal and nothing to worry about. The result is a long-lasting finish that can rival even the most premium lip products available on the market.
5. Clarins Lip Perfector Glow
These lip balms consist of 89% skincare ingredients and are available in both natural and bold shades. They contain plumping peptides and moisture-boosters that work together to leave lips feeling incredibly soft and smooth. The subtle pearlescent finish adds to the plumping effect. Additionally, these balms can be used on cheeks to highlight or add a hint of color depending on the shade chosen. They are perfect for those who prefer a minimalistic makeup look or those who want to make a statement.
6. Project Lip Matte Plumping Primer
I recently came across a brand called Project Lip that offers a variety of lip-plumping products, including lip oils, glosses, and liners. Their hero product, which I tested and loved, is a balmy primer that starts tingling upon application. While the sensation is not as intense as some other products on the market, it does last for a long time. The formula contains capsicum fruit extract, nourishing oils, and vitamin E which leaves lips feeling hydrated, plush, and pouty. The clear, natural matte finish makes it perfect for those who prefer a minimalistic makeup look. I also found that it works well as a primer to extend the wear of my lipstick.
7. NARS Lip Gloss
NARS is a wonderful brand that is well-known for its sophisticated makeup line. They also have the best collection of lipgloss. They recently launched NARS Lip Gloss range includes shades with slight plumping properties, giving your lips a boost without an overwhelming tingling sensation within a minute. These glosses provide a high-shine finish that lasts for hours, making them a perfect addition to your makeup routine for a fuller pout. This is a great lip gloss to start if you are new to it.
8. Dior Addict Lip Maximizer Plumping Gloss
I have heard so much about Dior's Lip Maximizer and its amazing plumping effects! The gloss seems to be a fan favorite among beauty enthusiasts, and I can see why. It's formulated with collagen and marine-based fillers that give lips a fuller, more defined look. Plus, I love that it provides long-lasting hydration and a glossy finish. It sounds like a great addition to any beauty arsenal.
9. Fenty Beauty Gloss Bomb Universal Lip Luminizer
With their Gloss Bomb Universal Lip Luminizer, Rihanna's Fenty Beauty lives up to its reputation. While visibly plumping the lips, this lip plumper provides a non-sticky, high-shine finish. Lips look fuller and irresistibly kissable thanks to nourishing ingredients like shea butter and a subtle hint of shimmer.
Lip filler has become one of the most sought-after cosmetic treatments in the past years. But with a good lip plumper, you don't have to get injections from a specialist to achieve a pouty look or you don't need to spend hundreds of dollars to achieve an attractive look. Dare to be different.