Winter has a unique charm that beckons adventurers to embark on journeys of exploration across the globe. The colder months offer a magical backdrop for travel, with snow-covered landscapes, cozy retreats, and festive celebrations. Whether you're drawn to the allure of snow-capped mountains, the enchantment of holiday markets, or the tranquility of winter wonderlands, something is captivating about experiencing different destinations during this time of year.
Winter travel allows you to immerse yourself in diverse cultures and create unforgettable memories, from the Northern Lights dancing across the Arctic skies to sipping hot cocoa by a roaring fireplace in a charming European village. Exploring new horizons during this season offers a chance to witness the world's beauty in a new light, quite literally, as the sun casts its warm glow against the icy landscapes.
Whether you're skiing down powdery slopes, discovering historical sites beneath a blanket of snow, or simply wandering through picturesque streets adorned with twinkling lights, winter travel provides a unique opportunity to connect with nature, communities, and traditions across the globe. As you venture into the cold, pack warm layers, cozy accessories, and a spirit of adventure, ready to embrace the captivating experiences that await.
So, whether it's the serene beauty of a snow-covered forest or the bustling energy of a winter carnival, let the allure of winter inspire you to explore, discover, and create lasting memories in destinations far and wide. Let's read more about the best destinations to visit this chilly winter.
Explore The Must-Visit Places In The Upcoming Winter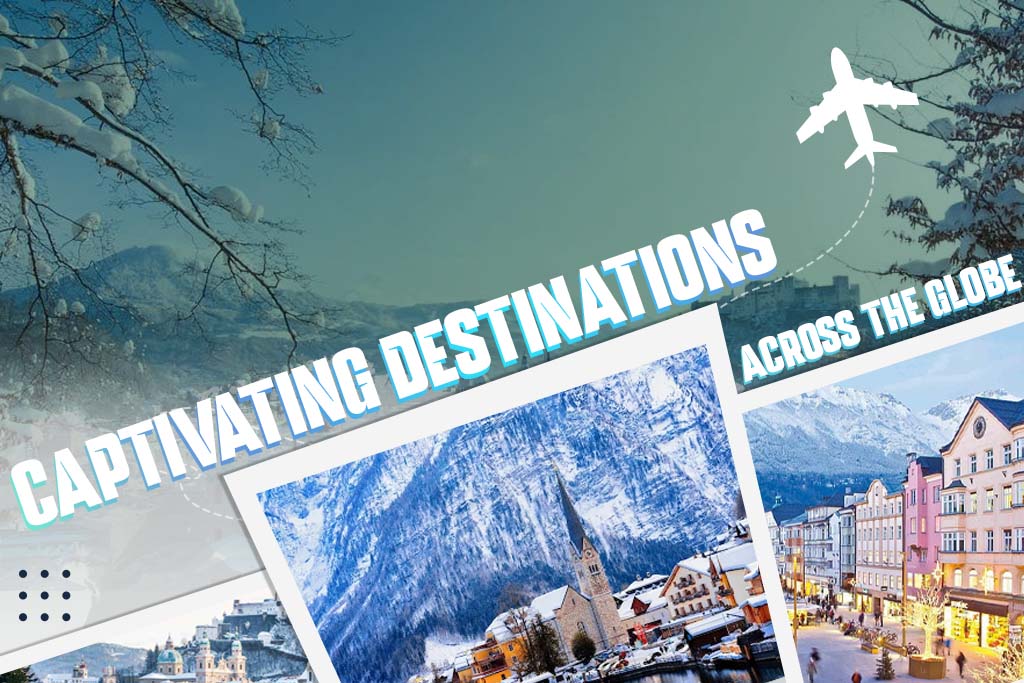 Indeed, here are ten captivating destinations across the globe that are perfect for winter travel:
1. Rovaniemi, Finland: Experience the magic of Lapland and witness the Northern Lights in this enchanting Arctic city. Enjoy husky sledding, reindeer rides, and the chance to meet Santa Claus himself.
2. Banff, Canada: Nestled in the Canadian Rockies, Banff offers breathtaking winter landscapes, world-class skiing, and rejuvenating hot springs amidst stunning alpine scenery.
3. Salzburg, Austria: Immerse yourself in the old-world charm of Salzburg, where you can explore historic sites, visit festive Christmas markets, and enjoy classical music performances.
4. Quebec City, Canada: Step into a winter wonderland in Quebec City, with its charming cobblestone streets, European architecture, and the iconic Winter Carnival.
5. Hokkaido, Japan: Experience the serene beauty of Japan's northernmost island with its powder-soft snow, hot springs (onsen), and the Sapporo Snow Festival.
6. Zermatt, Switzerland: Marvel at the iconic Matterhorn peak and indulge in world-class skiing and snowboarding in this charming Swiss alpine village.
7. Reykjavik, Iceland: Discover the unique landscapes of Iceland during winter, including the Blue Lagoon, ice caves, and the chance to witness the otherworldly Northern Lights.
8. Aspen, Colorado, USA: A winter paradise for outdoor enthusiasts, Aspen offers exceptional skiing, a vibrant après-ski scene, and a cozy mountain-town atmosphere.
9. Prague, Czech Republic: Explore the fairytale city of Prague adorned with snow, wander through the charming streets, and enjoy the festive Christmas markets.
10. Patagonia, Argentina/Chile: Experience the wild beauty of Patagonia with its pristine glaciers, rugged mountains, and unique winter trekking and adventure opportunities.
Each destination offers a distinctive winter experience, whether you're seeking snowy landscapes, cultural festivities, outdoor adventures, or a combination. Check travel advisories, weather conditions, and local guidelines before planning your winter getaway.
Things To Consider While Traveling In Winter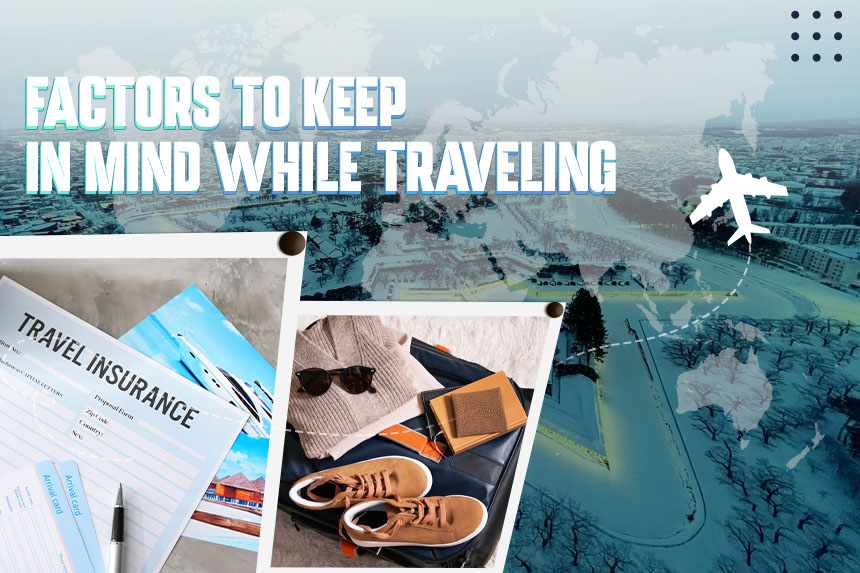 Traveling in winter can be a wonderful and magical experience, but it also requires careful planning to ensure a smooth and enjoyable trip. Here are some important things to consider when traveling in winter:
1. Weather and Climate: Research your destination's weather conditions and climate during winter. Pack appropriate clothing, including warm layers, waterproof outerwear, gloves, scarves, and sturdy footwear.
2. Travel Insurance: Invest in comprehensive travel insurance that covers potential flight delays, cancellations, and other unexpected events that can be more common during winter travel.
3. Flight and Transportation: Be prepared for potential delays and cancellations due to winter weather. Allow extra time for airport procedures and potential disruptions. Check road conditions and transportation options at your destination.
4. Accommodation: Choose accommodations that provide adequate heating and comfort during the colder months—research reviews and facilities to ensure a cozy and pleasant stay.
5. Daylight Hours: Be aware of shorter daylight hours in winter. Plan your activities accordingly and factor in daylight for sightseeing and outdoor adventures.
6. Activities and Attractions: Some attractions or outdoor activities may have limited availability or be closed during winter. Check ahead and make reservations as needed
7. Health and Wellness: Cold weather can affect your health. Pack necessary medications, stay hydrated, and take precautions to avoid catching a cold or the flu.
8. Safety and Emergency: Familiarize yourself with emergency contact numbers and the nearest medical facilities at your destination. Keep a charged phone and portable charger with you.
9. Cultural Considerations: Research local customs and traditions related to winter holidays and festivals. Respect local practices and celebrations.
10. Packing Essentials: Aside from warm clothing, pack essentials like a first aid kit, travel adapters, a portable flashlight, and any special items you might need during winter travel.
11. Itinerary Flexibility: Winter weather can be unpredictable. Have a flexible itinerary in case plans need to be adjusted due to unforeseen circumstances.
12. Budgeting: Due to holiday demand, winter travel might involve higher costs for accommodations, activities, and transportation. Plan and budget accordingly.
13. Photography Gear: If you plan to capture the beauty of winter landscapes, ensure you have appropriate gear and protection for your camera equipment.
14. Local Cuisine: Embrace winter by trying seasonal local dishes and warming beverages that are popular at your destination.
15. Environmental Responsibility: Practice responsible travel by respecting local wildlife, conserving energy, and minimizing environmental impact.
Remember that winter travel can be incredibly rewarding, offering unique experiences and a chance to see destinations in a different light. With careful planning and preparation, you can make the most of your winter adventure while staying safe and comfortable.
Bottom Line
In conclusion, traveling during the winter months can provide a captivating and enriching experience, allowing you to explore destinations in a unique and charming light. However, it's essential to approach winter travel with careful consideration and preparation. You can ensure a smooth and enjoyable journey by considering weather conditions, transportation challenges, cultural nuances, and safety measures.
From packing the right clothing to researching activities and attractions, embracing flexibility in your plans, and prioritizing your health and well-being, a well-thought-out approach to winter travel can help you make the most of your adventure. Whether you're seeking snowy landscapes, festive celebrations, or simply a change of scenery, the winter offers many opportunities for discovery, cultural immersion, and creating cherished memories.
By staying informed, adaptable, and respectful of the local customs and environment, you can navigate the joys and challenges of winter travel while fully embracing the beauty and magic this season offers. As you embark on your winter journeys, remember that the key to a successful and memorable trip lies in thoughtful planning, a positive mindset, and an appreciation for your unique experiences.