Our cars have become an integral part of our lives, helping us navigate through the hustle and bustle of daily routines. Whether you're embarking on a road trip, commuting to work, or simply running errands, having certain items in your car can make your journey safer, more convenient, and even enjoyable. In this blog, we'll explore 17 essential things to keep in your car to ensure you're prepared for any situation that may arise on the road.
1. Emergency Kit: An emergency kit is like a toolbox for unexpected situations. It's like having a first aid kit and some tools with you in case something goes wrong. Inside, you'll find bandages for cuts, medicine for basic pains, wipes to clean, scissors to cut things, and gloves to keep your hands clean. The tools include a special all-in-one tool, a flashlight to see in the dark, and extra batteries in case the flashlight runs out of power.
2. Jumper Cables: Imagine your car's battery as a big battery that helps your car start. Sometimes this battery can run out of power, and that's when jumper cables come in. Jumper cables are like special wires that connect your car's battery to another car's battery. This gives your car's battery a little jumpstart, like giving it a boost of energy so your car can start again.
3. Spare Tire and Tools: If you've ever had a bicycle, think of a spare tire like an extra bicycle tire. Cars have tires too, and sometimes one can go flat. The spare tire is there to replace the flat one. And just like how you need tools to fix your bicycle, you need tools like a jack to lift the car and a lug wrench to take off the flat tire and put on the spare one.
4. Tire Inflator and Sealant: Sometimes tires get a tiny hole and slowly start to become flat. A tire inflator is like a pump that can blow air into the tire and make it full again. Sealant is like a special liquid that you put inside the tire, and when the tire spins, it spreads around and seals up the tiny hole, so the air doesn't leak out.
5. Reflective Warning Triangles or Flares: Imagine you're playing with a toy that blinks really brightly. Reflective triangles and flares are like those blinking toys. If your car breaks down on the side of the road, you can put these out behind your car. They blink and shine really brightly, so other cars can see them from far away and know to drive carefully around your car.
6. Water and Non-Perishable Snacks: Water is like a drink to keep you from getting thirsty, and non-perishable snacks are like foods that don't spoil easily. These are important to have because if you get stuck somewhere for a while, you won't get too hungry or thirsty.
7. Blankets and Extra Clothing: If you've been outside in the cold without a coat, you know how chilly it can get. Blankets are like big warm covers that you can use to keep yourself warm if it's cold outside. Extra clothes are like spare outfits in case you need to change for some reason.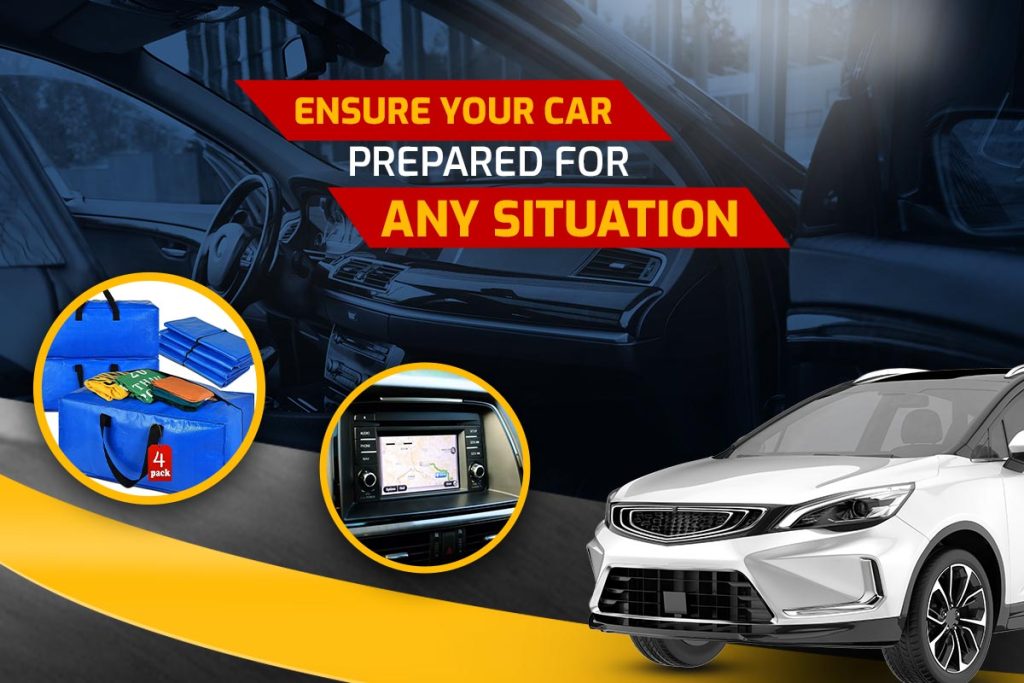 8. Phone Charger: Think of your phone charger as a special cord that gives your phone energy. If your phone's battery is running low, you can plug it into the car and it gets charged up, so you can still use it.
9. Map or GPS Device: A map is like a big picture that shows all the roads and places. GPS is like a smart device that tells you where you are and helps you figure out where to go. These are important in case you get lost and need to find your way back.
10. Spare Change and Cash: Spare change is like extra coins you keep in your car. Cash is like paper money that you can use to buy things. Sometimes, the machines that take cards don't work, so it's good to have coins and cash just in case.
11. Multi-Purpose Duct Tape: Duct tape is like really strong tape that can hold things together. It's like a superhero tape that can help fix small problems in your car until you can get it properly fixed by a mechanic.
12. Car Manual: A car manual is like a book that tells you everything about your car. It teaches you how your car works, what to do if something goes wrong, and how to take care of it so it stays in good shape.
13. Pen and Paper: A pen is like a special pen that you can use to write, and paper is like flat sheets that you can write on. You can use them to write down important things or leave messages if you need help.
14. Hand Sanitizer and Cleaning Wipes: Hand sanitizer is like a magical liquid that cleans your hands without water. Cleaning wipes are like wet tissues that you can use to clean things like your hands or surfaces.
15. Umbrella: An umbrella is like a big cover that you can hold over your head. It protects you from getting wet when it's raining, so you don't get all soaked.
16. Sunscreen and Sunglasses: Sunscreen is like a lotion that you put on your skin to protect it from the sun's strong rays. Sunglasses are like special glasses that you wear on your eyes to protect them from the bright sunlight.
17. Entertainment: Entertainment is like things that make you happy and keep you busy. In the car, you can have books to read or magazines to look at. They help pass the time when you're waiting or stuck in traffic.
Conclusion
Having the right items in your car can make a world of difference in your safety and comfort while on the road. From emergency essentials to everyday conveniences, these 17 items can prepare you for unexpected situations and help turn potentially stressful moments into manageable experiences. Remember to periodically check and refresh the items in your car to ensure they are in good condition and ready for use whenever the need arises. Stay prepared, stay safe, and enjoy your journeys with peace of mind.