In our fast-paced world, cars have become an integral part of our lives. Beyond being a mere mode of transportation, they hold a special place in our hearts as symbols of freedom, adventure, and personal expression. A car is not just a vehicle; it is an extension of our identity and a vessel that carries countless memories.
While we often associate car care with maintenance tasks such as regular servicing and repairs, it goes far beyond mechanical upkeep. Car care encompasses our emotional connection with these four-wheeled companions that accompany us through life's journeys.
In this blog, we will delve into the depths of car care and explore how it goes hand-in-hand with nurturing the emotions attached to our beloved automobiles. So buckle up and join us on this ride through the fascinating world where practicality meets passion!
1. Preserving Memories:
Every dent, scratch, or scuff tells a story – a memory etched onto the surface of your car. Whether embarking on road trips with friends or simply enjoying solitary drives amidst breathtaking scenery, each moment spent behind the wheel contributes to an ever-growing tapestry of experiences. By taking care of your car's appearance and maintaining its pristine condition, you are preserving its value and safeguarding the memories associated with those unforgettable moments.
2. Expressing Individuality:
From sleek sedans to rugged SUVs or vintage classics to futuristic electric vehicles – there is an endless variety when choosing the perfect automobile that resonates with your personality. Customizing your vehicle lets you make a statement about who you are while turning heads on the road. Taking pride in your car's appearance by regularly washing, waxing, and detailing enhances its visual appeal and showcases your dedication toward self-expression.
3. Ensuring Safety:
Car care extends beyond aesthetics and delves deep into the realm of Safety. Regular maintenance, such as tire checks, oil changes, and brake inspections, ensures your car remains in optimal working condition. By investing time and effort in keeping your vehicle road-worthy, you are safeguarding your well-being and the Safety of those accompanying you on your travels.
4. Building a Lasting Relationship:
Like any relationship, nurturing a bond with your car requires consistent care and attention. Regularly cleaning the interior, vacuuming carpets, conditioning leather seats, and treating the dashboard keeps your car looking fresh and makes each journey a comfortable and enjoyable experience. By investing in these small acts of affection for your vehicle, you cultivate a deeper connection beyond mere transportation.
10 Tips For How To Care For Your Car
Taking proper care of your car ensures its longevity and optimal performance. By following these 10 tips, you can maintain the health of your vehicle and maximize its lifespan.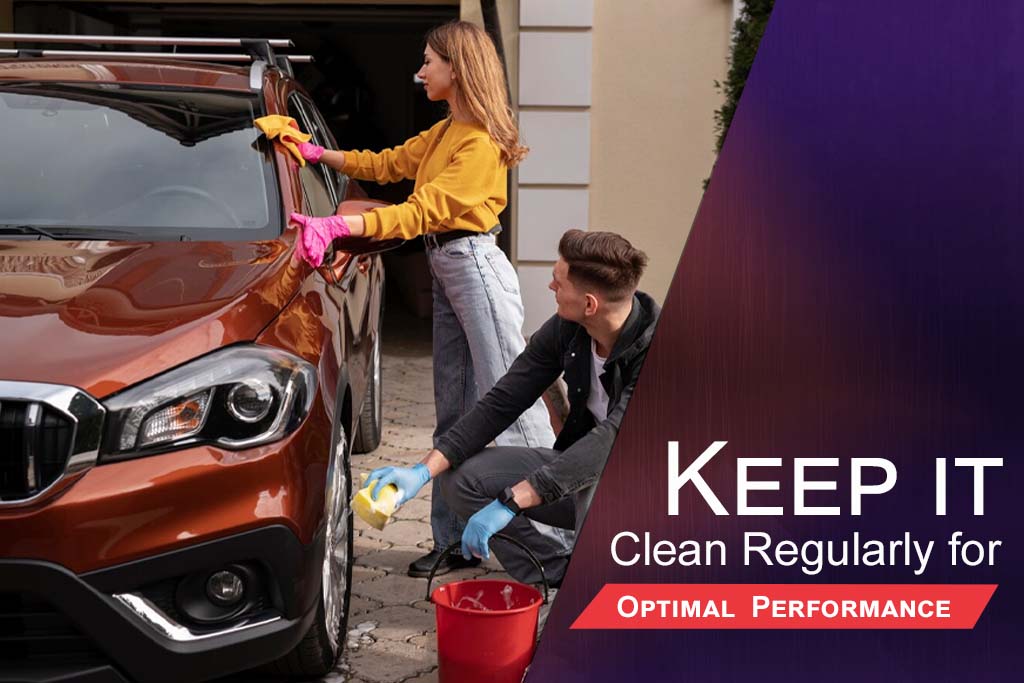 1. Regular Maintenance: Schedule regular maintenance checks with a trusted mechanic to keep your car in shape. This includes oil changes, filter replacements, tire rotations, and brake inspections.
2. Keep it Clean: Regularly wash and wax your car to protect the paint from dirt, grime, and harmful UV rays. Clean the interior regularly to prevent stains and odors from building up.
3. Check Fluid Levels: Monitor fluid levels such as oil, coolant, transmission, and brake fluid regularly. Top them up or change them when necessary to keep your car running smoothly.
4. Tire Care: Ensure proper tire inflation by checking tire pressure monthly. Rotate tires every 5,000-7,000 miles to promote even wear and extend their lifespan.
5. Battery Maintenance: Regularly check battery terminals for corrosion or buildup and clean if needed. Test battery voltage periodically to ensure it's functioning optimally.
6. Drive Responsibly: Avoid aggressive driving habits such as rapid acceleration or sudden braking, as they can wear out components faster and decrease fuel efficiency.
7. Protect from Elements: Park in shaded areas whenever possible to protect your car's exterior from sun damage. Use sunshades for windshields during hot weather to prevent interior heat buildup.
8. Follow Service Intervals: Adhere to the manufacturer's recommended service intervals outlined in your vehicle's manual for timely tune-ups and inspections.
9. Listen for Unusual Sounds: Pay attention to any unusual sounds from your car, such as strange engine noises or squealing brakes—these could be signs of underlying issues needing attention.
10. Invest in Quality Parts & Accessories: When replacing parts or adding accessories to your car, opt for genuine or high-quality options that meet manufacturer specifications. This ensures compatibility and longevity.
By following these tips, you can keep your car in great shape, reduce the risk of breakdowns, and enjoy a smooth and reliable driving experience for years. Remember, regular care is the key to a happy and healthy car!
Do's & Don't With Car Care
Taking care of your car ensures its longevity and optimal performance. However, it's important to know the do's and don'ts of car care. Following these guidelines can maintain your vehicle's value and avoid costly repairs.
Firstly, regular maintenance is one of the most important do's in car care. This includes routine oil changes, tire rotations, and inspections of brakes, fluids, and filters. By staying on top of these maintenance tasks, you can keep your car running smoothly and prevent potential issues from arising.
Another crucial aspect of car care is keeping your vehicle clean. Regular washing and waxing improve its appearance and protect the paint from dirt, debris, and harmful UV rays. Additionally, cleaning the interior regularly helps maintain a pleasant driving experience.
When it comes to dos with car care, ensuring proper tire inflation is vital. Underinflated or overinflated tires can lead to decreased fuel efficiency as well as uneven wear on the tread. Regularly checking tire pressure and maintaining it at the recommended level is important for Safety and performance.
On the other hand, a few don'ts should be avoided when caring for your car. Firstly, do not ignore warning signs or unusual noises from your vehicle. Ignoring these indications could lead to more significant problems down the line.
Also, never neglect regular fluid checks such as coolant or engine oil levels. Proper fluid maintenance is crucial for keeping all systems functioning optimally.
Lastly, refrain from using harsh chemicals or abrasive materials when cleaning your vehicle's interior and exterior surfaces. These substances can cause damage to paintwork or upholstery if not used correctly.
By following these do's and avoiding these don'ts in car care practices, you can ensure that your vehicle remains reliable on the road for years to
come while saving money on unnecessary repairs in the process
Bottom Line
Car care is essential to maintaining our vehicles' longevity and performance. By regularly servicing and maintaining our cars, we can ensure that they run smoothly, avoid unnecessary repairs, and extend their lifespan. Taking care of our cars saves us money in the long run and promotes Safety on the road.
With a wide range of products and services available for car care, it is important to choose high-quality options that meet the specific needs of our vehicles. From regular oil changes to tire rotations and brake inspections, staying on top of car maintenance can prevent major issues from arising.
Additionally, investing in professional detailing services can help preserve the appearance and value of our cars. Regular cleaning and waxing make them look great and protect against damage from environmental factors such as sun exposure, dirt, and pollutants.
Overall, prioritizing car care is a wise decision that pays off in terms of performance, longevity, Safety, and resale value. We can enjoy many years of reliable transportation by giving our vehicles the attention they deserve through regular maintenance and proper cleaning techniques. Remember – a well-cared-for car is a happy car!