Traveling is like embarking on a journey of self-discovery, and when you decide to go on that adventure alone, the experience can be even more enriching. Traveling solo might seem intimidating at first, but it comes with a plethora of advantages that can truly transform your outlook on life. From gaining independence to meeting new people, here are some simple yet profound reasons why traveling solo is an incredible choice.
Freedom and Flexibility
One of the most significant advantages of traveling alone is the freedom it provides. When you're on your own, you're in complete control of your itinerary. You get to choose where to go, what to do, and how to spend your time. There's no need to compromise with others' preferences, and you can change your plans on a whim without any hassle. This flexibility allows you to follow your heart and explore destinations that truly resonate with you.
2. Self-Discovery and Personal Growth
Traveling solo pushes you to step out of your comfort zone and embrace new experiences. This can lead to remarkable personal growth and self-discovery. When you're on your own, you're more likely to engage with locals and other travelers, which can boost your confidence and communication skills. You'll learn to navigate unfamiliar situations, manage challenges, and adapt to different cultures, all of which contribute to your personal development.
3. Empowerment and Independence
Solo travel empowers you to rely on yourself and make decisions independently. From navigating foreign public transportation to finding your way around a new city, every accomplishment boosts your self-esteem. As you tackle challenges on your own, you'll develop a sense of independence that can positively impact various areas of your life.
4. Cultural Immersion
When you travel solo, you're more likely to immerse yourself in the local culture. Without the familiar company of friends or family, you'll be more open to connecting with locals and fellow travelers. This can lead to authentic experiences, such as trying local cuisine, participating in cultural activities, and gaining insights into the daily lives of people from different backgrounds.
5. Mindful Experiences
Solo travel allows you to be fully present in the moment. Without distractions from companions, you can soak in the sights, sounds, and sensations of your surroundings. This mindfulness can enhance your travel experience, helping you create vivid memories that stay with you long after you've returned home.
6. Building Confidence
Stepping into the unknown on your own requires courage, and as you conquer the challenges that come your way, your confidence will naturally soar. Navigating unfamiliar places and situations builds a sense of self-assurance that can positively influence your approach to other areas of life.
7. Flexibility in Budgeting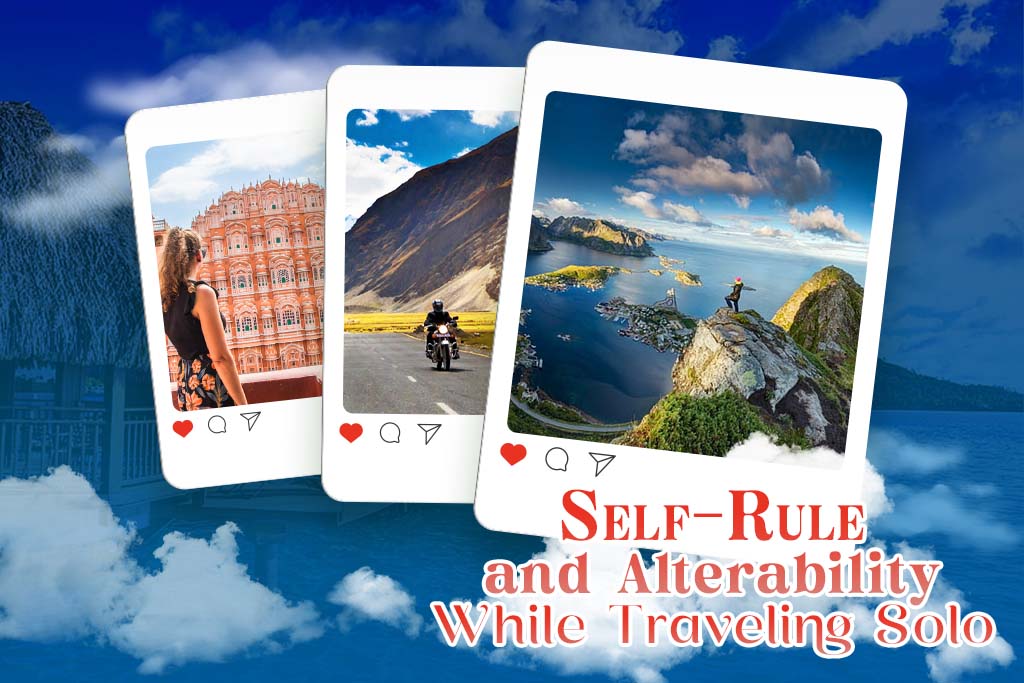 Traveling alone gives you greater control over your expenses. You can choose budget accommodations, dine at local eateries, and prioritize experiences that align with your spending preferences. This flexibility not only allows you to make the most of your budget but also enables you to splurge on activities that truly matter to you.
8. New Friendships
Contrary to popular belief, solo travel doesn't mean you'll be lonely. In fact, it's often easier to meet new people when you're alone. Whether it's bonding with fellow travelers or connecting with locals, you're more approachable and open to forming meaningful connections.
9. Empowering Decision-Making
Navigating through unfamiliar territories alone sharpens your decision-making skills. From choosing the right transportation option to making choices about where to eat and what attractions to visit, each decision contributes to your ability to analyze situations and make informed choices.
10. Enhanced Problem-Solving Skills
When you're alone in a foreign place, you become the sole architect of your journey. This means you'll encounter various challenges, from deciphering local transportation systems to finding your way around without GPS. Each hurdle presents an opportunity to hone your problem-solving skills, fostering creativity and adaptability in the face of unexpected situations.
11. Minimal Planning and Compromises
Traveling with a group often involves compromises, as everyone has their own preferences and interests. Solo travel eliminates the need for extensive planning to accommodate various agendas. You can be as spontaneous as you want, making decisions solely based on what feels right to you in the moment.
12. Photography and Creativity
When you travel alone, you have the freedom to spend as much time as you want capturing the perfect shot. You can explore your creative side by experimenting with angles, lighting, and composition without feeling rushed. Solo travel offers you the chance to curate your visual memories in a way that reflects your unique perspective.
13. Rekindling Passion for Exploration
As we grow older, our sense of wonder might diminish amidst the routine of daily life. Solo travel is a powerful way to reignite your passion for exploration. The experience of discovering new places, meeting people from different walks of life, and encountering diverse cultures can rejuvenate your curiosity and zest for life.
14. Disconnecting from Technology
In a world dominated by digital devices, solo travel provides an opportunity to disconnect and break free from the constant influx of notifications. It's a chance to be fully present without the distractions of emails, social media, and work-related obligations, allowing you to immerse yourself in the beauty of your surroundings.
15. Cultivating Resilience
Solo travel comes with its fair share of uncertainties and occasional setbacks. Missed buses, language barriers, and unexpected weather changes can test your patience. However, overcoming these challenges can help you develop resilience, teaching you to bounce back from adversity and remain positive in the face of obstacles.
16. Creating Lasting Memories
Memories are often intensified when you experience them alone. Solo travel can lead to some of the most vivid and cherished memories of your life. From the people you meet to the places you explore, every moment becomes a part of a personal narrative that you'll cherish and recount for years to come.
Conclusion
In conclusion, solo travel opens up a world of opportunities for self-discovery, personal growth, and meaningful experiences. The freedom to follow your own path, the chance to meet diverse people, and the empowerment that comes from navigating the world on your own terms are just a few of the countless advantages. So, if you're seeking a transformative adventure that will leave you with memories to last a lifetime, consider embarking on a solo journey. It might just be the most rewarding decision you ever make.