Who doesn't like to sit in their backyard after a long, tiring day? We all love to sit in the patio sections of our houses to chill in our free time. These areas are the coziest ones when it comes to hanging out together with our friends and family.
To spend our alone time and to plan our date nights here, these areas of our houses give us the most appealing looks to have a setup at.
But to chill and hang out in these areas, the thing that we need the most is a proper seating area, which will enhance the beauty of our homes by their appealing aesthetics. So, having outdoor furniture will help us make the corner of this house have its own amazing look. 
Materials that you can go for:
Recycled Plastic Furniture
Sunbrella
Bamboo
Cast Aluminium
Natural Wood (like teak)
Types of Outdoor Furniture that you can set up are as follows:
Hammock
Sofas
Picnic Table
Coffee Table
Bench
Outdoor Swings
Garden Chairs
Bench
The outdoor furniture list is ongoing; we have just explained some basic ones here. Now, to set up these outdoor furniture in your house, there are some conditions that you have to follow. There are always some do's and don'ts with outdoor furniture, which we will see in this blog so you can have a whole overview of what to do or not? Firstly we will discuss the do's of outdoor furniture.
Do's Of Buying Outdoor Furniture: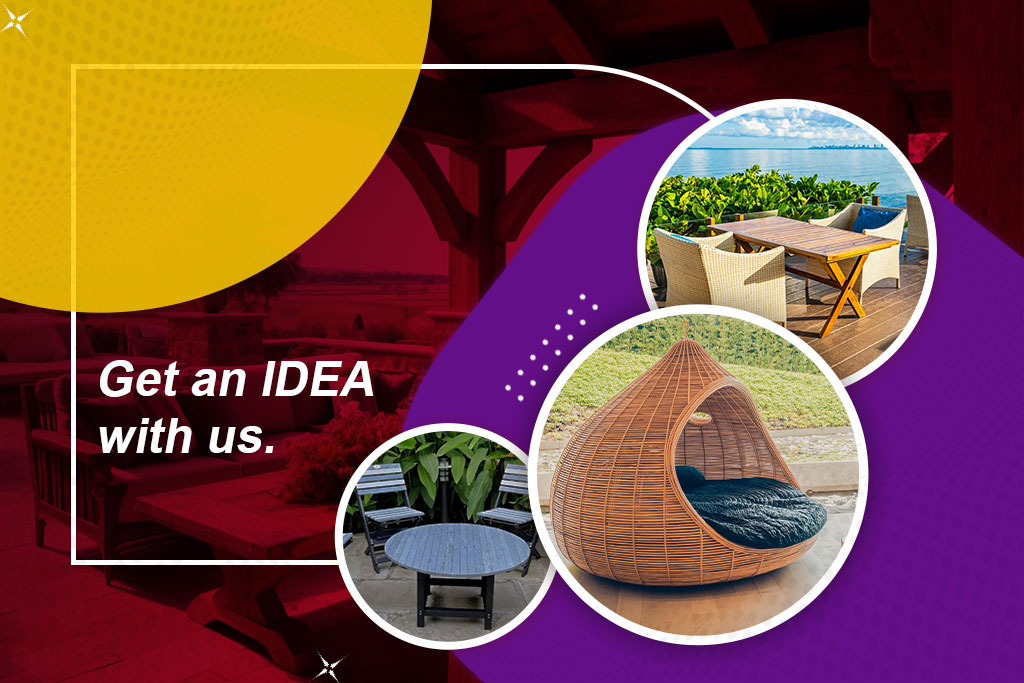 Durability and Sustainability:
The very first step that you need to consider before buying outdoor furniture is to check the durability and sustainability of the furniture. For our indoors, we can buy something of lower quality, but in the case of the outdoors, we cannot compromise the sustainability of the furniture.
Resistance:
The second important factor we must consider here is that the furniture should be resistant to the climatic and weather conditions of the area you are living in. If it is not, and you are purchasing a luxury sofa or seating area, then there is no use for that purchase.
Resistance is very important; otherwise, climatic conditions can ruin the game, which is not a good thing. So when you buy furniture for your outdoor area, please check that piece's climatic and weather resistance.
Minimal Maintenance:
The third important thing that you have to watch when buying outdoor furniture is the factor of minimal maintenance because if it is a thing that requires high maintenance, then it will be quite hectic and stressful for you. When you are buying furniture for your outdoor area, please consider this thing during the time of your purchase. So this is the required condition you must keep in mind when buying outdoor furniture.
Comfort:
We love to chill and hang out in our comfy places, and when we talk about comfy places, our patio or veranda comes first because, usually, that is where we chill after a long, tiring day. So, a comfortable seating area is required to get that comfort. If you are just going with the design and the aesthetics, it will not be a great decision because that is one of the places requiring the most comfy seating area.
Dont's Of Buying Outdoor Furniture: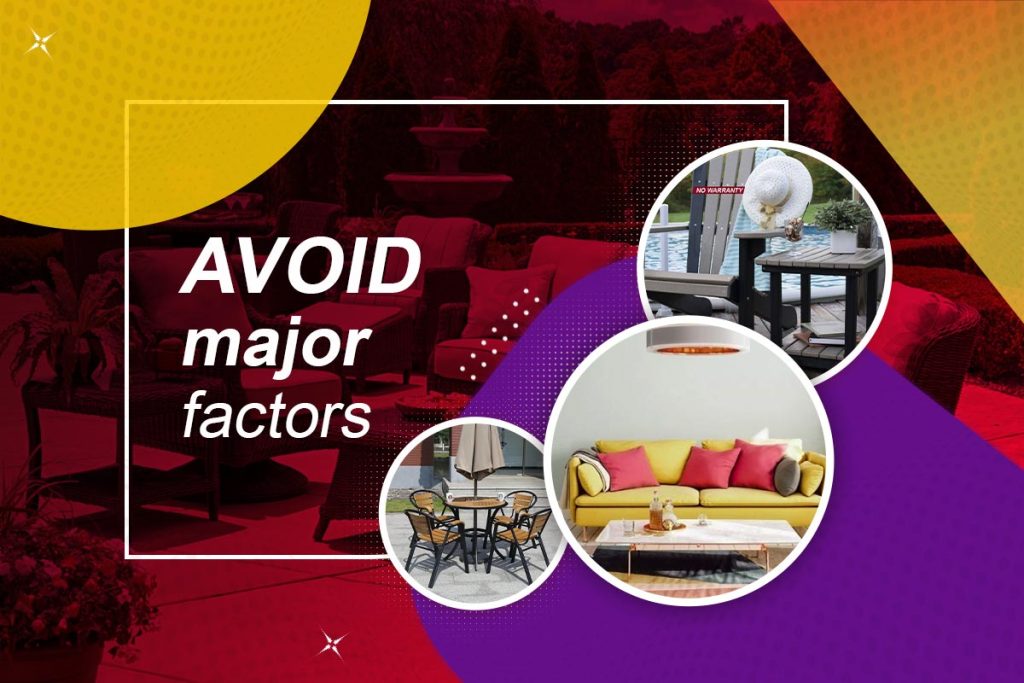 Storage:
Storage is one of the things that people usually need to consider when buying furniture pieces. So proper measurement before buying furniture for your outdoor sections is one of the most essential things you can consider. Filling it with necessary stuff won't help you get the aesthetic look for your patio or the outdoor area, so only go for the necessary stuff; only go with the required one that can fit into your patio and veranda.
Cheap Quality:
The quality of the furniture should not be compromised on any basis. Even if you use your outdoor furniture less, there are better options than this. If you want to set up an outdoor area, you have to choose material of higher quality because if you use cheap quality, it will be a game of a few weeks only, and after that, it will start to ruin. So when buying outdoor furniture, please consider this one factor: always go for good quality.
Warranty:
The third factor that you should consider before buying furniture is that it must have a warranty. If we have the warranty assurance, we can keep the things on our outside porch freely without worries. UltimatelyUltimately, if we purchase things without any quality assurance, the things can get ruined, and ultimately, it will be a loss for us. So, always go with a warranty for the outdoor furniture case.
Unmatching Contrast:
What if you have considered all the previous factors, but now your furniture needs to look better? Is it worth it? No, right! You must select the type of furniture that will look good in our porch area. Simply put, there should be a contrast between our porch and furniture. It must look like an aesthetic place after all the costs and expenses, so never go with the unmatched contrasts with the furniture and the patio.
In the end, many factors need to be considered before buying the perfect outdoor furniture for your home because, ultimately, it will be your hangout place, so it should be good and nice enough to have that comfy vibe.