Whenever we talk about living rooms, there is a picture of everyone sitting there and hanging out all day. The living room is a part of the home where people usually spend most of their time, and when it comes to most of the time, there comes a picture of comfort and coziness. So that place must be good and comfy in terms of environment and everything. But one question that comes to our mind is, what if it is not big enough?
WHAT IF IT IS SMALL?
Even if it is small, you don't have to worry about this thing because we have the solution to make your small and congested place lively. Great furniture can give your place an aesthetic and cozy vibe. So what are we waiting for? Let's understand how we will do this.
Walls:
Mirrors on the Walls:
This is one of the best ways to decorate your small living room or space. Mirrors give an illusion of more space and light in the environment. You can decorate your wall with a big mirror, giving you more aesthetic and large space vibes.
Brands to choose from:
Boca Do Lobo
Jonathan Adler
Tech:
Bonnlo Bluetooth
Echelon Smart Connect Fitness Mirror
Books:
You can cover the wall of your living room with lots of books to give a more personal touch and a decor that will give your living area more aesthetic vibes. Books are a great way to decorate your walls to give a more comfy feel to the living room.
Types you can go for to decorate your living area:
Vintage Hardcovers
Limited Editions
Comics
Collection Sets (Like Harry Potter)
Artwork:
Looking for ways to light up the walls of your living space. Don't worry; we have the perfect solution for you. Great Artwork can be used as a decor item because they don't cover the space that your living area is lacking, and other than that, it gives a more lively and beautiful look to your personal space.
Types you can go for:
Anime
Flowers
Modern Art
Impressionism
Baskets:
You can hang baskets on your living room walls, saving your space and giving you some storage space to keep things. It can help you to declutter the living space. So Baskets also comes in the preferred furniture for living space area.
Types you can go for:
FLOOR:
Large Rug or Section Wise Rugs:
One way to give a space illusion is to use a large or section-wise rug. In this way, your living area will look big and spacious. So make sure that if you shop for furniture for your living space, use this advice to give a great look to your hangout place.
Types you can go for:
Neutral Shades
All Over Patterns
Legs:
Yes, you have heard it right; we are talking about legs here rather than about yours or your furniture. Remember that if you want to purchase furniture for your living area, keep your hands on those with legs. That space from the furniture floor will give your living area a spacious look.
Brands that you can choose from:
Burrow
Herman Miller
Knoll
Curved Edges:
Rather than going with straight and sharp edges, you must go with curvy edges because they seem more cute and comfy for your small living space. For your floor option, you can go with this great option to give your area a Pinterest aesthetic look.
Brands that you can choose from:
Maiden Home
Allform
Floyd
Lower Seating:
If you have a small space but still want to make it look bigger and spacious, then you can plan to go with the lower seating furniture; if you want to know why you should go with this thing, then we have the reason, too. Lower seating gives you the illusion that you have higher Ceilings and higher ceilings create an impression of a bigger room.
Brands that you can choose from:
Castlery
Lulu and Georgia
Ikea
Variety in seating:
You can choose to keep a sofa or other than that, you can also go with other plans like club chairs, rattan chairs, and a day-size bed. But that is not even the case, if you want to go for a bigger sofa too, you can go for it.
Types that you can go for:
Small Sofas
Rattan Chairs
Club Chairs
Ottomans
Accent Chairs
Built-in Sofa:
This thing will change the small space to a more spacious one because if it is built in, you can add more storage space on the lower portion of the sofa, which will help you so much with the storage and sitting space.
Types you can go for:
Wooden Ones
Metallic Ones
CEILING:
Upper Storage Area:
You can add the upper storage small cupboards and sections near the ceiling. After all, it will give you a more spacious look and help you store things you can't keep in your living area because it can get congested.
Types you can go for:
Wooden Ones
Metallic Ones
Hanging Plants:
You can hang the plants from the ceiling part. It will make your room or living space more cozy and comfy, giving it a bright look. If you keep your plants on the sides of your room, then it will congest the place somehow, so if you want to keep the plants, then this is the best option for you; in addition to space, it will also give a fresh look to your living room area.
Brands that you can choose from:
Amazon
Local Market
Old Ones with a diy
Others:
Breezy or Light Curtains or Curtain Blinds:
If you are a person who wants to add curtains to your living space, then breezy curtains are an option for you because they will provide your room a light look and if you can remove them as an option, then curtain blinds will be perfect for you, they will save your space.
Brands that you can choose from:
Glass Furniture: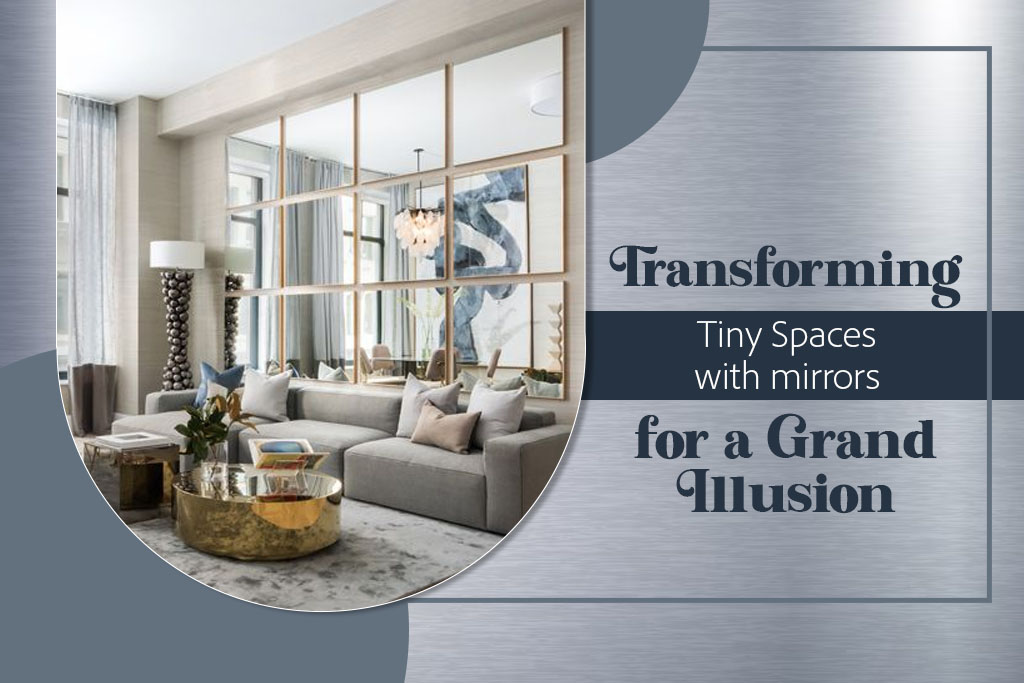 Glass Furniture is a great option for you to have in your living area if your space could be more congested or smaller. It will give your room a clean and clear look, giving your living space a great illusion of a bigger area.
Brands that you can choose from:
Lastly, you don't have to worry that your living space is smaller because even smaller spaces can be decorated with so much aesthetics you cannot imagine. Remember, your living area is where you usually spend most of your precious time with your loved ones and even for your own time, so remember to give it a cozy and homely look.